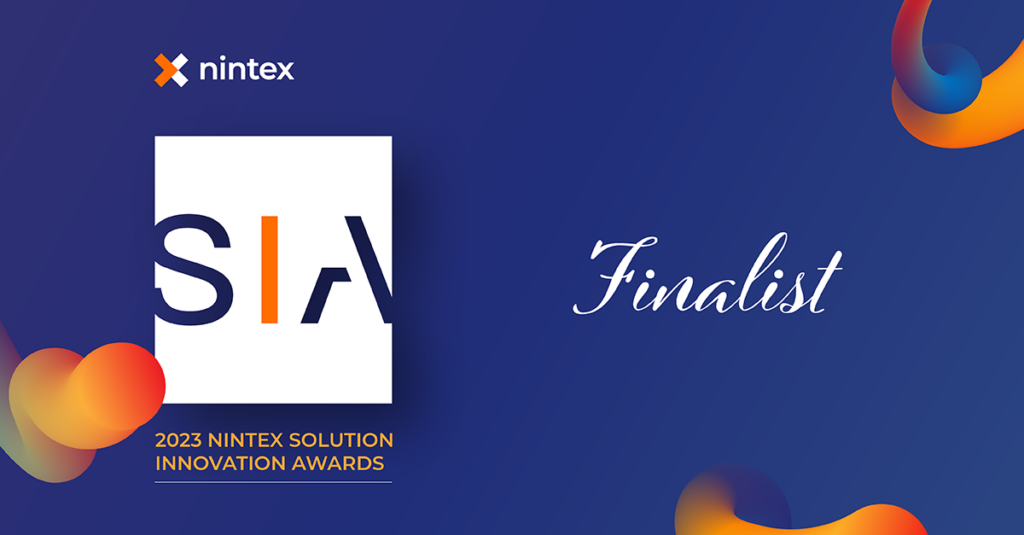 We're very pleased to announce that jaam automation have not one, but two finalist spots in the Nintex Solution Innovation Awards (SIA) 2023.
Run annually, the Nintex SIAs recognise customers across both the public and private sectors that have achieved business impact from use of the process management, intelligence and automation tools within the Nintex Process Platform.
Last year, jaam client Newson Health won a SIA in the Game Changing Solution-Specific Deployment category for its cloud-based success with Nintex Workflow Cloud across a range of critical business processes including recruitment, onboarding, governance, patient complaints/feedback and patient letters – all based on the automation implementation provided by our team.
So, what are we up for this year?
Our client Holcim Group shortlisted in the Customer Excellence Awards
The jaam automation team worked with Holcim Group to create an AI-powered CV standardisation solution to be used by a 65,000 strong workforce.
Integrating Affinda, a third party AI tool, with a customised Nintex K2 Cloud application, the team at jaam created a solution for Holcim Group that enabled the upload, data analysis/extraction and review of employee CV information before sending the data downstream into SAP Success Factors as the final piece of the integration.
The solution has saved a significant amount of time, reducing the hours spent by HR managers from hours into minutes.
Ernie Hayter, our Head of Automation, is an Individual Excellence Award finalist
It goes without saying that the jaam Head of Automation, Ernie Hayter, excels at bringing together automation solutions that provide impactful results for jaam customers. And we're super proud that this has been acknowledged by our long-term partner, Nintex, with an Individual Excellence Award nomination at the Solution Innovation Awards.
Ernie is a finalist due to his work on the jaam automation work and case management solution, which has had a significant impact for jaam customers and the wider Nintex community. This new tool from jaam enables enhanced productivity, improved collaboration and streamlined workflows, while also facilitating increased efficiency, faster case resolution and a seamless user experience.
Showcasing his extensive automation knowledge and applying industry-leading best practices, Ernie was instrumental in implementing a scalable architecture for the solution which ensured flexibility and adaptability that will accommodate evolving business requirements.
Winners will be announced in the coming weeks – keep everything crossed for us!