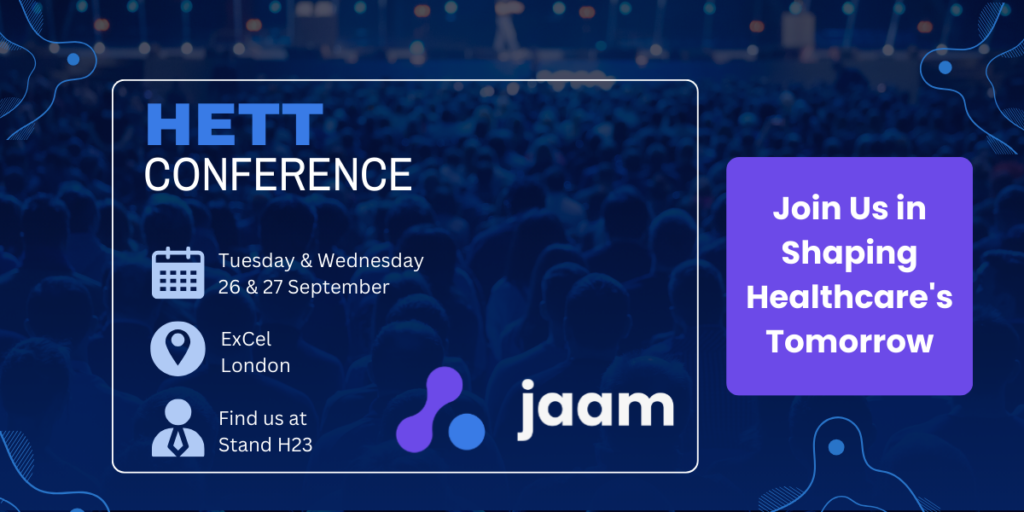 This blog post will provide readers with valuable insights into the significance of automation in healthcare, drawing inspiration from jaam automation's attendance at the HETT Show 2023 in the UK. It will showcase the transformative power of automation and its role in shaping the future of healthcare.
HETT Show 2023
Setting the Stage: HETT Show 2023
The Healthcare Excellence Through Technology (HETT) Show aims to help healthcare practices deliver better patient experience and operational efficiencies by providing education and networking opportunities across the two days of the event.
Taking place on Tuesday 26th and Wednesday 27th September 2023 at ExCeL London, HETT is focused on enabling meaningful collaboration across digital health and care, with the organisers highlighting that new challenges, developing requirements and restructuring of local systems within the NHS have created a need to bring the Digital Health community together.
HETT 2023 will explore the systems and infrastructure that underpin and enable a data-driven NHS, supporting the ecosystem to deliver patient outcomes through the meaningful implementation of technology.
The team at jaam automation will be exhibiting on Stand H23 at HETT and we're looking forward to sharing automation best practice in healthcare with NHS and private healthcare practitioners. With significant experience of designing and implementing intelligent automation processes for private medical practices, we're keen to share process and system enhancements that translate well into NHS business practice.
The Healthcare Automation Revolution
Already, intelligent automation is making an impact in the healthcare sector with the application of AI and automation technologies that reduce administrative burden, enhance patient communications and create practical efficiencies that free up time for improvements to patient care.
The healthcare automation revolution has started, and the team at jaam are keen to share just what is possible with attendees at HETT 2023.
Why Automation Matters in Healthcare
It's common knowledge that waiting times in healthcare can be lengthy for patients, particularly in government-funded services. Even in private practice, the daily grind of administrative work and manual processes can be detrimental to efficient service that patients deserve. Automation cuts through the busywork and repetitive processes, freeing up time for focusing directly on patients.
The experts at jaam have published an ebook and a whitepaper that detail the challenges that automation can help to solve in the healthcare sector.
Streamlining Healthcare Operations
There are multiple common processes within healthcare that are ripe for automation, and offer the key to more streamlined operations. A range of automation tools can be deployed to provide a tangible difference to processes such as appointment scheduling, clinician recruitment and onboarding, health screening, clinical coding, patient flow management/triage and clinician decision support, to name a few.
Enhancing Patient Care
Time saved on manual, repetitive process is time added to improving the patient experience. Automation can help to move patients through the service more quickly and efficiently, with improved communication and faster turnaround times. Freeing clinicians up from administrative burdens provides increased capacity for patient care.
Ensuring Data Security and Compliance
Automation can be used to enhance data security and compliance in a number of ways including auditing to monitor and flag unusual activity, managing patient records  and streamlining the process of data collection and reporting.  Automation also minimises the risk of human error when working with data, vastly improving accuracy and consistency.
Key Insights from HETT Show 2023
With conference themes including Workforce, Adoption and Productivity, Digitally Empowered Patients, Integration and Interoperability and Infrastructure and Data Architecture, the jaam team are looking forward to discovering key insights and trends at the HETT Show 2023.
Expert Panels and Discussions
The event agenda is packed full of expert sessions covering a wide range of topics.  Professionals from across the NHS, healthcare bodies, higher education, private healthcare and the pharmaceutical industry make up a diverse range of speakers and panellists at HETT Show 2023.
Innovations in Healthcare Technology
Numerous innovations for the use of technology in healthcare will be covered across the two days of the HETT Show 2023. Some key sessions to consider include 'Does the NHS have the Data and Digital Infrastructure to Support a Future of AI on the Frontline?', 'Cyber Security and Quality Assurance: Securing Your Networks and Systems with Confidence' and 'Building the Infrastructure for State-of-the-Art Data Analytics and Intelligence'.
Case Studies of Successful Automation Implementation
You'll find the jaam automation team on Stand H23 in the exhibitor hall, where we will be happy to share our successful healthcare automation implementations for Newson Health and Welbeck Health Partners.
Conclusion
Embracing the Automation Wave in Healthcare
Traditional healthcare delivery models are under increasing pressure as providers around the world try to balance growing patient numbers with economic downturn, workforce shortages, employee burnout, inefficient information management and budget pressures.
Automation and AI-enable technologies have the potential to help address these challenges, with more and more healthcare providers adopting technology and embracing digital transformation.
How to Stay Informed and Get Involved
The jaam automation website is packed full of information specific to automation in the healthcare sector, and we share new intelligence and views on this sector regularly in our blog.
At the HETT Show 2023, you'll find our team on Stand H23, where we can give you the latest information on healthcare automation and the projects we've successfully implemented for our healthcare clients.