Here at jaam, we love an event. Hosting them, organising them, attending them, partnering on them, speaking at them – events give us an unparalleled opportunity to get to know people, to learn and to pass on some of our own wisdom. And it's a Very Good Thing that we're so fond of events, as we've been at five over the past six weeks!  All fantastic, all worthwhile and all bringing like minds together to chat about the benefits and results of automation.
The October/November event round up
Rise Through Symbiosis | Druid AI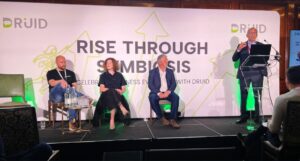 This event in London, hosted by our partner
Druid AI
, brought together automation visionaries and innovators from around the world to talk about the impact of conversational AI on internal and external processes.  Our very own tech expert Graham Penman was a member of the partner panel to give his views and tips on how business growth can be accelerated through conversational AI.
Make Work Better | Laiye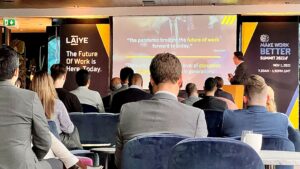 Another London event, another jaam partner – this time intelligent automation vendor
Laiye
. The event focused on a new Laiye category, the Work Execution System (
WES
), that can help to optimise human-technology collaboration and ensure organisations and their people are future-ready. Our Anton and Graham were in attendance, and Graham even made the cut on the event
video
summary, where he pops up just after the one minute mark to make the excellent point that technology is principally an enabler in solving problems for people.
P2P Advisory Event | Oxygen Finance

The
Oxygen Finance
P2P Advisory Event in Birmingham brought together accounts payable teams from the public sector with the aim of learning, networking and sharing best practice. Murph, our Director of Strategy, ran a session on 'How Automation Can Transform Accounts Payable'. Murph's presentations are the stuff of legend, and it was no surprise to experience the delight and excitement in the room, particularly when he demo'd the tools that can take accounts process from days to seconds by automating them.
Resilience & Sustainability Event | Incuto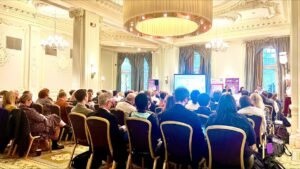 Graham was on the event trail again, this time to attend and speak at
Incuto
's Resilience & Sustainability event in Manchester.  The event focused on practical solutions for credit unions to help more people through the cost of living crisis, and Graham gave an overview of jaam's intelligent automation services to attendees. Automation saves time, saves money and frees up valuable human resources to focus on higher-impact activities – so it was great to share that message and help empower credit unions during these difficult times.
Partner Roundtable | Nintex
Meeting up with our technology partners is always a very valuable experience. Throw their other UK partners into the mix and you've got a fantastic forum for sharing ideas, experience, best practice and product development input.  This was a great event from Nintex, taking place over two days and giving us the opportunity to better engage with one of our key technology partners for workflow solutions, as well as with other companies developing Nintex solutions for their clients. Looking forward to seeing the fruits of our labours!
Yes, it's been a very eventful time indeed at jaam – and we're excited for that to continue into 2023!